Idle Thuggery is an attempt to pull back the curtain and take a look at what goes on behind the scenes of a typical arch-villain enterprise; to see the bags under the superhero's eyes and walk a day in the life of those unsung (and frequently death-prone) members of villainy; the henchmen. The comic will launch in physical form in early 2018, but we're also working on an animated web comic version and will be posting updates to this page.

Mogan Quaid – Writer, thinker of deep thoughts, peeler of difficult onions
Rain Art Studios – Pencils, Inks, colors (this is where the magic happens)
Luke Gartner-Brereton – Textures, Lettering, soundtrack (because you need music to read?)





The standard Lois/Clark romance
Flat characters that are "good" or "evil"
Death Rays, Doom's Day Devices, etc.
Transformers or Smurfs

A different perspective on the superhero/super-villain genre
Characters with more grey to them than black and white
Occasional scenes of violent kickassery
Bad language (though not gratuitous)
Awesome artwork, interesting dialogue, intriguing ideas
A blend of genres and styles

The writing has some strong similarities to Frank Miller's Batman (introspective first person narrative etc.) but the artwork varies between typical superhero style figures to more non-traditional methods. While it takes place within the traditional dichotomy between good and evil, hero and villain, Idle Thuggery also includes epic fantasy and sci-fi themes as well as a good dose of comedy and a touch of brutality.
Artwork Examples: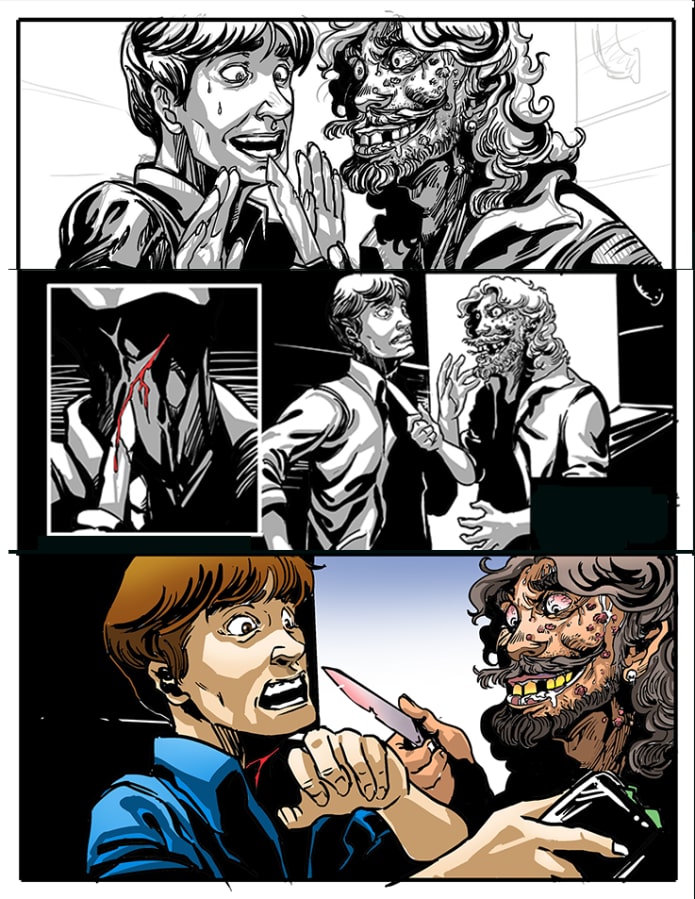 That's right, we've commissioned a bespoke soundtrack for Idle Thuggery. Why? Because…because why the heck not! Get the most out of the reading experience by listening to the soundtrack while you read, or just turn on the tunes while you're cooking spaghetti bolognese or shaving your turnips.
Hop on over to Bandcamp to have a listen: Idle Thuggery Soundtrack

We have plans for Idle Thuggery…big plans, big, secret, super awesome plans. But it all depends on how much interest we get in the comic. Whether you're just an avid reader or you want to get involved in the creative process, feel free to drop us a line, share us on Facebook or Twitter; all support is welcome!